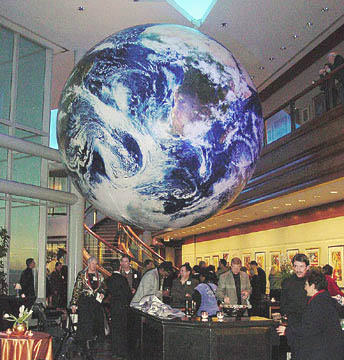 On Wednesday, November 20th, 2002 the New Hampshire Space Grant Consortium and Complex Systems Research Center hosted their fourth annual International GIS Day Conference at the Institute for the Study of Earth Oceans and Space at the University of New Hampshire. GIS Day is a day set aside during National Geography Awareness Week for Geo-Spatial Science professionals to reach out and educate people of all ages about the important contributions that Geo-Spatial Science related technologies make in all of our lives. Hosted guests to this year's GIS Day conference included approximately two hundred and fifty high school students from many New Hampshire high schools during the private morning sessions from 9:30am to 1:30pm and upwards of four hundred Geo-Spatial Science professionals, presenters and guests from all around the state of New Hampshire during our afternoon sessions from 2:00 to 5:00pm.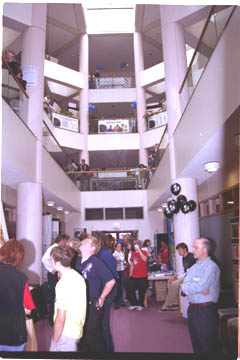 All GIS Day 2002 conference guests were hosted to many attractions and events including this year's featured attraction, the world famous eleven foot satellite imagery ORBIS EarthBall globe. All guests were also treated to an extensive cartographic exhibition, a Geo-Spatial Science college fair and hands on tours of Complex Systems Research Center's state of the art GIS and Remote Sensing laboratory. This year's GIS Day 2002 cartographic exhibition featured over one hundred maps and posters from presenters from all around the state. Invited presenters include professionals from many sectors of the Geo-Spatial Science community including urban planning, resource management, emergency management, education, science, government, and industry. This year's GIS Day Conference Geo-Spatial Science college fair featured representatives from many regional Geo-Spatial Science undergraduate, graduate degree and certificate programs. Morning student guests were treated to a series of talks about the Geo-Spatial Sciences and the educational and career opportunities that they have to offer. Afternoon guests were hosted to a series of professional hardware and software, vendor and data provider demonstrations from leading companies and organizations in the Geo-Spatial Science industry.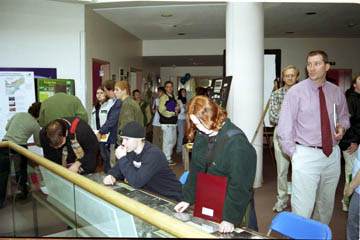 In an effort to further enhance geographic knowledge all students guests were provided with packets which included additional information about Geo-Spatial Science related technologies, career and educational opportunities in the Geo-Sciences, interesting earth facts, information about famous geographers and a geo-quiz. All students were also provided with a new Merriam Webster Notebook atlas and a series of souvenirs including National Geographic World Maps, stressball globes, pens, buttons, keychains and stickers. In total, throughout the day, the 40+ person GIS Day 2002 staff were able to give away over 500 atlases, 250 maps, 500 stress ball globes, and over 1000 other souvenirs to the GIS Day 2002 guests.


---